It isn't easy for parents to get the kids to sit and study without having to navigate their tantrums. Kids are curious by nature and thus many-a-times they might not stay focused on studies for a prolonged period. Thus, mixing educational games and interactive activities with every day studying can not only make learning fun but these would also make your kids sharper and a keen observer. Here is our list of best general knowledge games for kids that you can include in their daily schedule.
Fun with Words (kids aged 6 months to 3 years)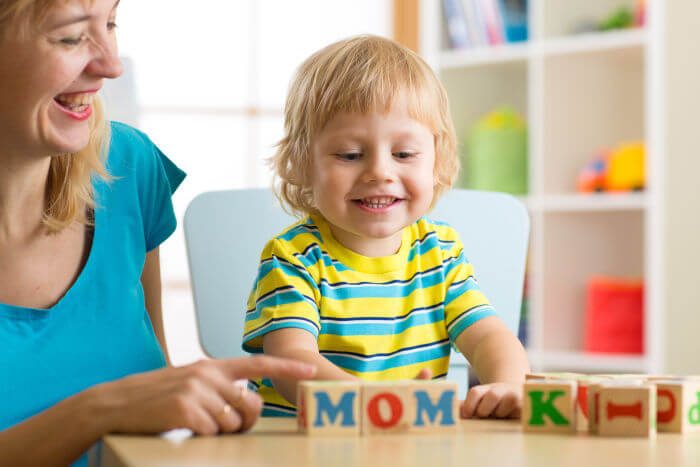 One of the best general knowledge games for kids to learn spellings and word association is Fun with Words. The game consists of various 3-piece puzzles of 3-letter words. Using the activity guide provided, the kids have to create word and picture puzzles. Easy and fun to use, this game will help them learn spellings, word associations while fostering logic in the kids. Start your toddler with this fun game to learn spellings. The box comes with 90 puzzle pieces and an activity guide.
Einstein Box Pretend Play Game (kids aged 6 months to 3 years)
Well, I am sure that all of us have played pretend games when we were kids. My favorite one was to play-pretend-doctor with my friends. You would have yours too, right? Even though these games were played to pass the time and take a break from studying, they introduced us to a whole new world. Like, I learned about the names of various instruments used by doctors and their purpose in the daily procedure. But playing pretend-doctor also helped me prepare better for the future if I wanted to be a real doctor. Einstein Box Pretend Play Game is a wonderful gift for your toddler to learn things in a fun and interactive way. The box contains 5 educational boxes containing:
Puzzle: The 8-piece puzzle helps them develop logical understanding.
Art & Craft: The shape games promote motor skills and creativity in the child.
Memory Game: Animal masks foster imagination and can be used to make Storytime fun.
Tear-Resistant Animal Book: Teaches about various animals.
Tear-Resistant Family Book teaches toddlers about their family members.
Skillmatics Animal Planet Card Game (kids aged 2 to 4 years)
Another entry into the list of fun and interactive games for kids is the SKillmatics Animal Planet Game. The animal planet consists of a plethora of species living on land, water or plants and using this card game is one of the easiest ways you will find to teach your kids more about them. The game consists of 52 card games and 06 clue cards. Upon picking a card, you can ask 10-questions to get the clue about the animal on the card. Is it a carnivore? Is it an omnivore? Does it eat flesh? Does it live in a nest or a cave? Use your questions wisely so that your kids can associate these different features with the animal. Collect 07 right cards to be the winner. This game is useful for kids aged 6 to 9 years. This game boosts their communication skills, problem-solving skills and thinking capability.
Imagimake Mapology India and State Capitals (kids aged 3 to 8 years)
The boring activity of learning the capitals of different states can be made fun with Imagimake Mapology India and State Capitals. Introduce this as one of the interactive activities for kids, and this jigsaw puzzle game will make your little one learns all the states and their capitals easily. You may gather a few friends around and make this a fun activity by challenging kids to find the right answers by placing and fitting the right piece of the puzzle. This game is surely a welcome break from the geography book for the kids.
The box comes with a puzzle frame, state puzzles and flags with names of the capitals.
The kids have to fit in the state puzzle piece in its rightful place and stick the flag bearing the name the state capital in the space made on the puzzle piece.
Smartivity Magico 2.0 (kids aged 2 to 5 years)
If you are preparing your kid to join a pre-K class, Smartivity Magico 2.0 is the game that would help you prep your kid. It is one of our favorite general knowledge games for kids. Filled with over 1200 interactive activities for kids, the Smartivity Magico game covers 400 days of learning the NCERT curriculum for kids aged 2.5 to 5 years (playgroup, nursery, junior and senior kindergarten). It blends real-time learning with digital learning by making your phone or tablet a fun store for learning. The game covers syllabus about topics like my family, air and water, day and night, animals, plants, seasons, transport, colors and more!