Since the world has gotten globalized, children are not only celebrating festivals from their own culture but different religions and cultures as well. In India, kids celebrate Holi and Diwali with as much fervor as Christmas and even Halloween. Though this does work for promoting cultural and religious tolerance among kids, it is important to impart the understanding of what these festivals mark.
Are They Following Others Blindly?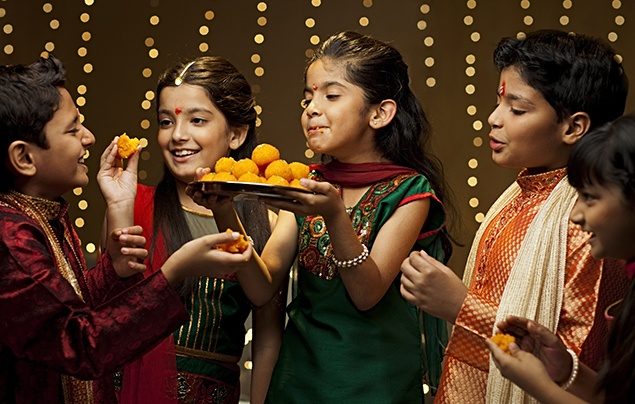 Does your kid know what is the reason why a particular festival is celebrated or are they celebrating just because everyone else is? If you do not teach your kid the background of the festival, the importance of the rituals associated with it, they will grow up like a sheep in a herd, following others blindly.
Festivals these days have become more about buying and exchanging gifts, wearing new clothes and bursting crackers while making a show of one's happiness. But that is not what celebration should be like for your kid. Encourage your children to celebrate without these commercialized rituals and instead teach them to celebrate with their family, relatives by going traditional. Since this is the age of nuclear families, children barely get to meet their cousins, grandparents and family friends. These festivals are special occasions for them to bond, beyond the gift-giving.
History and Values of Festivals
Every festival has a moral story or a rich historical background. You might feel that your child is too young to understand it but if you tell them the history in a story form, it will surely attract them. Like Diwali not only symbolizes Lord Rama's return to Ayodhya but also the victory of light over darkness and good over evil. Even Christmas is more than just the celebration of the birth of Jesus Christ. It is a festival of love and merriment. The spirit of Christmas is giving and forgiving.
Does your kid get anxious and demanding during the festivals? Are you tired of having to get them new things every time there is a festival around the corner because it is a "special occasion". It is because you have conditioned them into believing that this is something that's necessary. Instead, teach them how to share their good fortune with the less fortunate. Festivals can be a great time to teach empathy to children. Along with parents, it is also the duty of schools to teach kids kindness and understanding of different communities. Children need to be educated about festivals instead of just being told to celebrate it.