I don't want to go anywhere! The tantrum which our kids throw at us whenever it comes to a family function or reunion. In this digital era, everyone now wishes to greet each other on social media. The feeling of meeting, sharing sweets and gossips over smiles, have all lost somewhere in thin air.
We have lived it the most. And we want the same for our kids, right? But I guess this generation is more reserved in itself than connecting emotionally with other beings. To protect our rich culture and heritage, we need to adopt measures to let our kids have an insight into what a blessing family is! My Kid also hated to attend the family get-togethers and parties, just sit and pass away his time idly using gadgets and reading books.
Because of which I made it a rule to follow these 5 ways religiously. Listing them down here for you all to follow and see the change for yourself.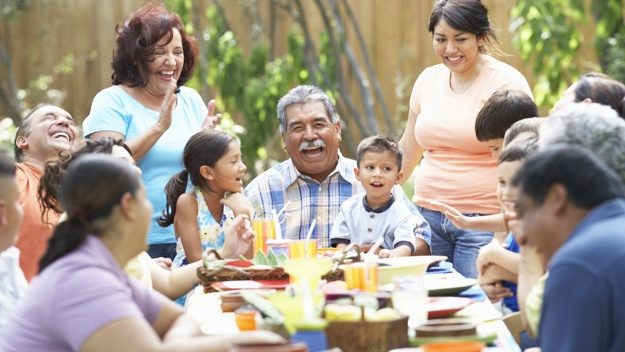 Everyone has family groups on social media. Just pick out your cell phone right now and make a family get-together plan for a weekend. Either at your home or somewhere out and it can be a potluck party or a hi-tea reunion. Add some fun element to it and let your kids have a ball of a time with their family members. Make sure you stick to your plan and every family member is present at the party.
Location Plays a Vital Role
If you have a large size garden, then there's no perfect place other than this. Pick an open restaurant or a place that has a beautiful attractive view for kids. I remember I once planned a get-together at a café which was my kid's most favorite one. As it gave a toy at the end of the meal to the families that came with kids. He immediately got ready and was very excited about the reunion.
A family party or function that's all about chit-chat is way too boring and dull for kids. Playing games can be a good idea to let everyone break their shells of mundane lifestyle and enjoy their day whole-heartedly. Also, what better than creating some lifetime memories with family! Let your kids suggest some games and involve them in each and every planning so as to let them feel wanted and excited to join the party.
Appreciate and Celebrate Family Time
Keep on appreciating your every family member and let your kid acknowledge it. Make them feel that every member holds a value and has their own role to play. Add snacks, drinks, desserts to make it more a kind of celebration and blessing to have such a beautiful family. Clicking pictures could be an add-on to preserve the memory for a lifetime.
You all can plan to go on a one-day trip and have a campfire. Just family and no toys, gadgets will be allowed to use. You can take musical instruments or a ball to kill away time entertainingly. Light a campfire, sit in a circle and narrate stories to kids, about how in you were childhood and ways in which you and  your cousins gathered for a pyjama party or a birthday celebration or a sleepover.