Read the article to know about the dates of the festival, shubh muhurat and pooja vidhi to bring all the luck this Diwali.
The festival of lights Diwali is just around the corner. Though 2020 has been a rough year for all of us and the celebrations might be low-key, but it is a must-welcome change that might usher us all from the COVID-unpredictability towards some much-needed -break and happiness!
Deepawali is comprised of five day long festivities that bring family and friends together starting with Dhanteras, Narak Chaturdash or Chhoti Diwali, Lakshmi Pujan, Govardhan Puja and ultimately Bhai-Duj. Read on to understand the date, days, auspicious time and significance of this important festival of Hindus.
DHANTERAS 2020: DATE, AUSPICIOUS TIME AND SIGNIFICANCE
Traditionally known as Dhantryoashi, Dhanteras 2020 would be celebrated on 12th November. The auspicious time for Dhanteras 2020 starts from 9.30 PM on 12th November and ends on 5:54 PM on 13th November.
It is celebrated on the tryodashi (the thirteenth day) of Krishna Paksha of Kartik Maas (the month of Kartik as per the Hindu calendar). Many might know this as an auspicious day to buy precious jewellery and things, or in other words, bringing prosperity to your homes.
Dhanteras is associated with several deities like goddess Lakshmi, Lord Yama, Kubera and Lord Dhanvantri. It is said, that it was on Dhanteras, Lord Dhanvantari, avatar of Lord Vishnu emerged along with the goddess Lakshmi, consort of Lord Vishnu and the goddess of wealth. They emerged from Kshirasagar during samundra manthan, an exercise between asuras and devtas to claim the elixir of immortality, carried by Lord Dhanvantri during the said exercise. Also known as the god of medicine, people worship him on Dhanteras for good health and long life.
Goddess Lakshmi emerged from Kshirasagar carrying the pot for infinite luxuries and wealth on Dhanteras and is worshipped to provide the same to the families.
Interestingly in a few regions, Lord Yama is also worshipped on this day and people pay their obeisance to him by lighting an earthen lamp to ward off untimely deaths and other malevolent forces away from their loved ones. The auspicious time for Yama Deepam starts from 5:28 PM and ends at 5:59 PM.
Kubera, known as the treasurer of world's wealth is also worshipped.
NARAKA CHATURDASHI OR CHHOTI DIWALI 2020: DATE, AUSPICIOUS TIME AND SIGNIFICANCE
Also known as Kali Chaudas or Bhoot Chaturdashi, Narak Chaturdashi is celebrated on the fourteenth day of Kartik Maas. It is believed that on this day, Lord Krishna, Satyabhama and Goddess Kali killed an ancient asura known as Narakasura and freed the world from evil, thus signifying it as Naraka Chaturdashi.
In 2020, Naraka Chaturdashi would be celebrated on 13th November 2020.
It is said that on this day the veil between the world of dead and the alive is thin and the spirits of the deceased come down to Earth to visit their loved ones. It is believed that at midnight, 14 forefathers visit their family members to guide them homeward and ward the evil away which is why on Naraka Chaturdashi, 14 diyas are placed outside the home.
DIWALI 2020: DATE, AUSPICIOUS TIME AND SIGNIFICANCE
Diwali might be a week-long festival but the preparations begin almost a month prior to the same. With cleaning the house, shopping for gifts for relatives and friends and decorating the home, we all have our own rituals and traditions to follow.
Diwali or Deepawali is just not a festival that includes firecrackers, gambling and gift. It signifies the triumph of light over darkness, good over evil, power, strength and morality.
In Bengal, Deepawali is a festival celebrating the power of goddess Durga. Diwali also represents an important day as Lord Mahavira attained eternal bliss on this day.
Lord Rama returned to Ayodhya after 14 years of exile and victory over Ravana. Upon his return, the people of his kingdom welcomed him by lightening rows of diyas, thus signifying the triumph of good over evil.
Many celebrate Diwali as the commemoration of marriage between Lakshmi, goddess of wealth and Lord Vishnu. Some celebrate it as goddess Lakshmi's birthday as many believe that she was born on the new moon day of Kartik.
Here is the date and muhurats for the pooja for Diwali festivities:
In 2020, Diwali would be celebrated on 14th November, Saturday.
Lakshmi Puja Muhurat starts from 4:35 PM and ends at 6:31 PM
Pradosh Kaal, the most auspicious time for pooja starts from 4:34 PM and ends at 7:11 PM
The shubh muhurat for Diwali puja differ basis the location and geography as well. The muhurat for Diwali puja as per your city is as follows:
New Delhi – From 5:28 PM to 7:24 PM
Gurgaon – From 5:29 PM to 7:25 PM
Noida – From 05:28 PM to 07:23 PM
Jaipur – From 5:37 PM to 07:33 PM
Chandigarh – From 5:26 PM to 7:21 PM
Ahmedabad – From 5:57 PM to 7:55 PM
Kolkata – From 4:54 PM to 6:52 PM
Chennai – From 5:41 PM to 7:43 PM
Hyderabad – From 5:42 PM to 7:42 PM
Mumbai – From 6:01 PM to 8:01 PM
Bengaluru – From 5:52 PM to 7:54 PM
Pune – From 5:58 PM to 7:59 PM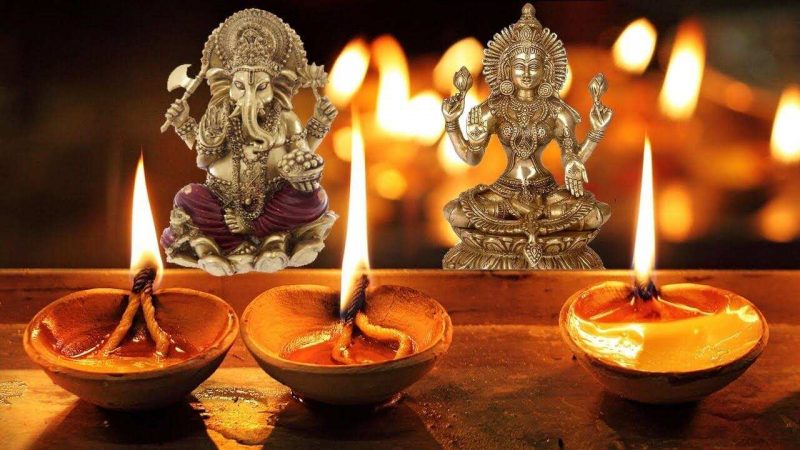 Laksmi-Ganesha Diwali Pujan Vidhi and Rituals:
Start by setting the chowki or aasan for the idols of Lakshmi-Ganesh. Purify the chowki by sprinkling Ganga jal while reciting this mantra: "ऊं पृथ्वी त्वयाधृता लोका देवि त्यवं विष्णुनाधृता। त्वं च धारयमां देवि पवित्रं कुरु चासनम्'
Cover the chowki with red cloth and place the idols on the top. Now apply chandan while reciting this mantra: 'चन्दनस्य महत्पुण्यम् पवित्रं पापनाशनम्, आपदां हरते नित्यम् हरते नित्यम् लक्ष्मी तिष्ठ सर्वदा।'
As per the rituals, one must start with the Ganesh pujan. Do the aarti for Vinayak Ji and pray for new and successful beginnings in this New Year.
Follow it up with Lakshmi Pujan with aarti of goddess Lakshmi while praying for happiness and prosperity.
After this, many people worship Lord Vishnu and Lord Shiva with their aartis. Businessmen also worship their wealth and books.
GOVARDHAN PUJA 2020: DATE, TIME AND SIGNIFICANCE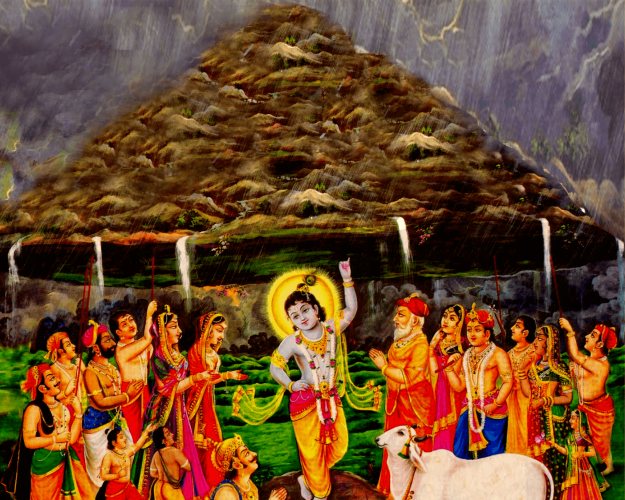 Govardhan Puja 2020 would be celebrated on 15th of November. The auspicious time for Govardhan Puja 2020 would begin from 3:18 PM and ends at 5:27 PM.
On this day, Govardhan Parbat, also known as Annakut, is worshipped for providing us with food and safety. It is believed that in medieval times Lord Krishna lifted the mountain on his index finger to provide shelter to the villagers of Gokul from the wrath of Lord Indra who punished them for not worshiping him. He punished them with incessant rains that destroyed the harvest and broghts a flood in the village. To commemorate that day and to pay homage to Annakoot or Govardhan Parbat, Govardhan Puja is done.
On this day, people create a mountain using cow dung while decorating it with flowers. People pray using incense, diya, honey, milk, Ganga jal and Prasad.
BHAI DOOJ 2020: DATE, AUSPICIOUS TIME AND SIGNIFICANCE
Bhai Dooj 2020 would be celebrated on 16th of November. The auspicious time for the celebration starts from 1:10 Pm till 3:18 PM.
The word Bhai Dooj has a literal meaning attached to it because it is made up of two words – bhai meaning brother and dooj referring to the second day after the full moon of Kartik Maas (two days after Deepawali).
Though it is difficult to decode the love and bond between brother and sisters, there are certain days that celebrate this unending bond, bhai-dooj being one of those. On this day, sisters show their love by keeping fast till the puja or by cooking their favourite dishes and sweets. The puja is done by doing the aarti of the brother, applying tilak on their forehead and offering them sweets. While doing so, they pray for the longevity and good health of their brother.
There are many legends and stories about the origin of this festival. One of those stories involves Lord Krishna. It is believed that after killing Narakasura, he went to meet his sister Subhadra. To celebrate his victory, Subhadra welcomed him with a lot of pomp, decoration and flowers. To mark his victory, she applied tilak on his forehead and prayed for his long life. From that day onwards, it became a ritual to celebrate this day as Bhai-Dooj.
We hope that we have given you all the information that you require to celebrate the five-day-long festival of Diwali with a lot of happiness and excitement and bring prosperity and luck to your loved ones.