A relationship between grandparents and grandchildren is close and mutually beneficial when it comes to the health and well being of both. Grandparents are the ones who provide acceptance, life, stability, patience, wisdom, support, and fun to their grandchildren and in turn, this has positive effects on a child's well-being. Let's explore how bonding between Grandparents And Teenage Grandchildren can be build up.
Parents are the ones who can help grandparents and grandchildren to build a close bond by encouraging them to be in frequent contact. Whenever possible grandparents should be invited to visit their grandchild's home often enough that they can spend a good time together. However, while the physical distance is present there are some challenges, and there are things that can be done to foster contact that is frequent. This goes a long way in improving bonding between Grandparents And Teenage Grandchildren.
Use Technology When Needed :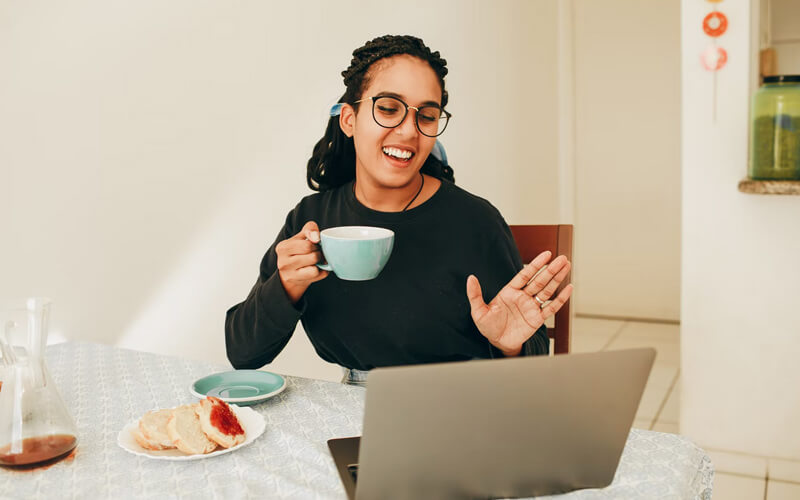 As the technology is growing there are many options available to connect with your loved ones like Facetime, email, Zoom, Instagram, texting and etc.' all that will facilitate you staying in contact with your grandchild. Grandparents can even try to record themself by reading a bedtime story and then share it with their grandchildren which they can listen to when they are in bed. Grandchildren can send personalized cards, messages, or photos. These both give the same result of keeping in contact and staying close to each other when you are physically not present.
Visit Often : When a grandparent lives in a different city or state then planning a trip to visit your grandchild will fill your child with anticipation and excitement. Even if you don't frequently visit them but this will help your grandchild view the time spent together as a special one.
Letters : Who doesn't love to receive a letter or a mail from their close ones? Encourage to have communication via mail or a handwritten letter with both grandparents and grandchildren participating in it. This will encourage them to write more and will be thrilled to receive responses from each other.
Photo Sharing : Have the photos of grandparents at the grandchildren's home and vice versa. You can even create a family photo album to page through while naming every family member. Grandchildren may not be able to see their grandparents frequently but they can learn about them and feel their importance in the family.
Climb the Family Tree : Children of all age enjoys knowing the history of their family and the family members. Share your story and your ancestor's story with your grandchildren. You can both can draw a family tree together.
Ways to improve bonding between Grandparents And Teenage Grandchildren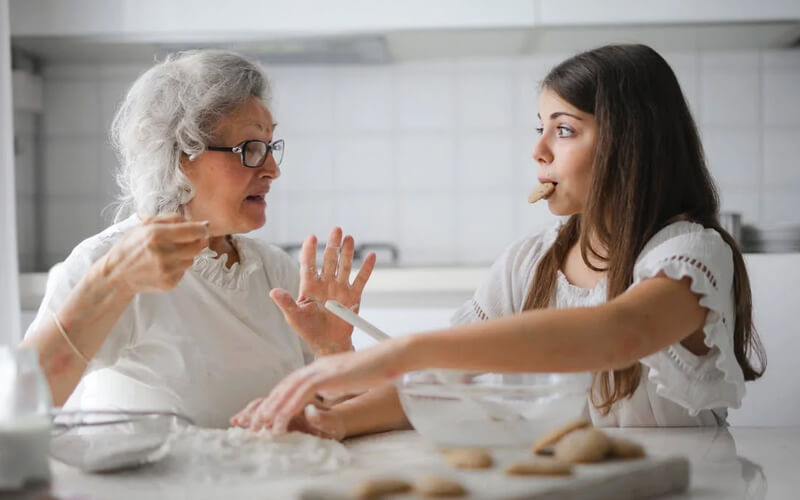 Grandchildren are the most cherished treasure of their grandparents. It is normal to feel the generation gap that you both have but there are still ways that will get you to know them better and spend a good time with them. Try these activities to become the cool grandparent they have and be a fun friend.
Cook together a new cuisine : Several memories are created in the kitchen of an Indian household that is passed down from one generation to another. Try to create your own aromatic memories and discover cuisine that you and your grandchild love and would love to make it together. You can even sign up for a cooking class with them to master the basic skills. Share the responsibility of cleaning vegetables, preparing spices, and washing dishes. And ask your grandchild if they have any suggestions to add. Seeing you put effort into the cooking they will value it and volunteer to help you in the future.
Storytelling : Grandparents are known to be natural storytellers or narrating fantastic tales from mythological epics, especially the Indian grandparents. Share stories from your own life with your grandchild and make them chuckle, let them know how naughty or shy or smart you were at your young age. Tell them stories about their parents and in return after hearing your stories they will likely tell you about what is going on in their lives.
Play chess : Chess is a great way to spend time with your grandchildren together indoors as it will create an ambiance for amazing conversations. It is easy as a grandparent to dismiss your grandchildren's attention span. Invite them to play a game of chess rather than underestimate their focus. This game will encourage them to strategize and grow their mind and skills in different ways.
Learn music : In between work and family commitments we forget about or dream of learning something new, it can be singing or playing an instrument.  Now is the time to work towards that dream. Ask your grandchild if they have any interest to accompany you to a music class. Learning a skill like music will not only be fun but an experience that will give you both to have something in common. This will also be a great learning opportunity that will prepare you both to perform together at family gatherings.
Have a meal together : Eating meals together is the best way to connect with your grandkids especially when they are teenagers. This will be an opportunity for you to introduce them to your favorite old spots. And even your grandchildren will introduce you to new restaurants and cuisine that you have never tried before. Set one or two days of every month to visit new restaurants and plan where you can go next in advance, this way you both will be looking forward to the day to arrive and append time together.
Go for a walk : Taking a walk outside will be a great way to get some fresh air and be active as well as to appreciate the nature and the beauty of your city. Invite your grandchildren for a morning walk. It will be a nice time to catch up with each other. You can use this opportunity to teach them the heritage of your city and the neighborhood. A walk that will help you lose some calories as well as build great memories with your grandchild.
Do gardening together : Create a spot at your home where you can plant some flowers or do gardening. If you don't know then attend a gardening class with your grandchild to make it even funnier. And plant some seeds together and see them grow together. Ask them to keep the track of the plant's growth. It will be a joy of seeing the flowers bloom and new leaves emerge together.
Play vintage games : Let your grandchild know the joy of planning those vintage games of your time like snakes and ladders, ludo, carom, and other outdoor and indoor games that may be entirely new to them.  This will be a fun opportunity to teach them something interesting. Board games will be great to do rather than using phones or watching television.
Practice craft : Creating paper crafts is a great way as a gift for grandchildren and is a heart-warming experience. Try to teach them creativity and have a fun session of creativity where you both create something for each other which is unique and new and made with love.
Listen to (old) songs : Lyrics from the eighties and nineties are memorable and they have beautiful compositions. Take this opportunity to introduce this heritage music with your favorite old songs. Narrate the memories you have with certain tunes and tell your child about the trivia that is related to singers and songwriters. Your grandchildren will appreciate old songs when you make them interesting for them and will thank you for adding that to their playlists.
The life of a teenager is hard and kids do go through a lot of emotional and physical changes. They are looking for the stability of their family to help them stay anchored and this includes their grandparents as well. Grandparents are like the best people ever when the kids are small. While parents behave strictly and have to be disciplinarians, grandparents are the ones who enjoy having fun with their grandchildren. It is always fun to sit, talk and play games with your grandchildren for hours. While the kids grow younger it can put a strain on the grandchild and grandparent relationship. In the teenage, they are caught in the space between their childhood and adulthood. Spending time with the kids around their own age seems preferable for them since they understand them and know how they feel about the changes that are happening, physical and emotional. But you still will be a vital part of their lives and you just have to adjust your position a little bit to the one that is favorable to your grandchild.
Reflect over the old photo albums : Many teens feel and wonder where their childhood has gone and this is the right way to show them where it all went with old family albums. Go through the photos of the time when they were young and you too were young. This could spark some questions about how you have handled the years when you were a teen. This will get you to share some precious afternoon with them.
Watch a movie together : When the family is together on a Saturday evening or a Sunday evening plan to watch a movie together. Let your teenage grandchild choose the movie and it may be obvious that the movie they choose will not be something that you would usually watch but then this can give you an idea of what your grandchildren like and is into right now. Who knows- you may even like it or can lead to a lively discussion.
Share a hobby together : When your grandchild was younger he may like to go fishing and just because they are older now doesn't mean that they don't like it now so ask them if they are still interested and tell them to bring a friend along who might also be interested to do it and you all can have fun together. Yor can bong with your grandchild over a fishing activity.
Invite them on their vacation : If you are not staying with your grandchild then it would be fun having your grandchildren visit your place or you can even go on a vacation together. Offer them that they can bring their friend together if they wish but be sure that the parents of the friend are ok with the visit. This will be a fun way for you to show your grandchild your neighborhood or see new monuments together.
Volunteering:  You can think about this twice before asking your grandchild but then again, they might be up for it. They are becoming older and you can volunteer them and teach them whatever you can and whatever they wish to learn at that age. If they want to learn driving then be their guide and teach them how to drive. This can be a great time to spend teaching them something that you know and love.
Just because your grandchild is growing and becoming older doesn't mean that you are being put out to pasture. If you know how and when bonding between Grandparents And Teenage Grandchildren to foster, then there are still good times to be had with them.