Sitting aloof at the corner chair in the living area, my son was under some deep thoughts. I went and asked him for a reason and got the reply, "Mom, there's no summer visit to Nani's house this year and neither playtime with friends. Nor will we have upcoming Raksha Bandhan Day celebration with cousins and family. I wish I could meet my cousin sister and enjoy the day. Who would tie me a rakhi? How can we celebrate?"
This hopelessness amongst kids is as evident as in us amidst this lockdown phase. Coronavirus outbreak modified the lifestyle drastically and now affecting festivities. I was disgusted with my munchkins mindset and thought of ways to pep up this Lockdown Raksha Bandhan with new ideas!
Are we not going to celebrate Raksha Bandhan this year? We will, but only the pattern would change. Although the streets are silent, the virtual world is full of festive exchange, and manufacturers are leaving no stone unturned to help your sibling reach your emotional reach. Kids are the most affected as they fail to experience the festive feel and excitement like every year.
Is Lockdown spoiling the Raksha Bandhan celebration for kids?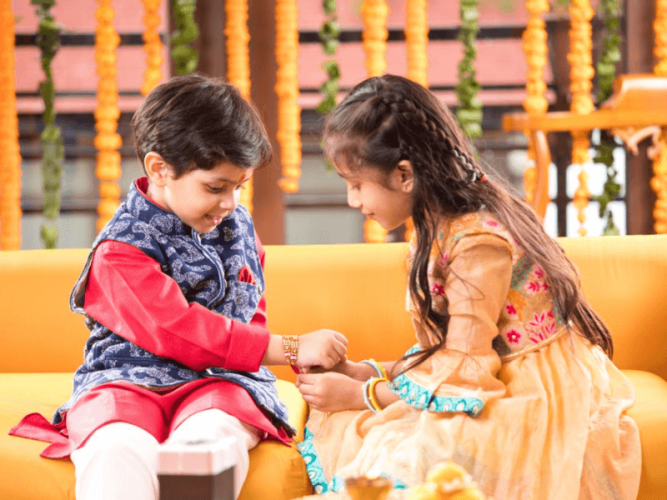 I was a kid who was always super-excited when any festival was around, and Raksha Bandhan was my favorite as it involves the exchange of Raksha Bandhan gifts and goodies. It is exciting to await the raksha bandhan gifts for sister ​from brothers and choosing fancy rakhis from the market. If your kids missing that fun this year? Well, I would not let the Lockdown hamper my festive feel! Social distancing is only physical and not emotional. Even though you cannot take kids to social gatherings and cousins' place, you could feel good at home. Kids are sensitive and need consideration. Little efforts could bring smiles on their faces. Raksha Bandhan Day this year must be a memorable one for them with unique celebrations!
Let's hike up our spirits and learn about a new way to celebrate Raksha Bandhan day amidst Lockdown . It is a festival of bonding between the siblings, and Indians begin the festive season with this heart-touching festival. Sisters happily buy beautiful Rakhis and tie a thread of trust and belief on brother's hand. Magic and fun of this festival are unique as you can find colorful streets flooding with designer rakhis, pooja thalis, gift hampers, and loads of sweets. Not to miss those kids' exclusive cartoon rakhis!
Special tips for parents to make Raksha Bandhan Day memorable for kids amidst Lockdown!
Zest and flavor of this festival must retain irrespective of the irregularities and abnormalities of life. Believe that it's a phase and would pass out soon. Use the time to teach our values and detailed stories behind such celebrations in your kids' hearts. It is not just a festival but a legacy that will continue for generations to come ahead. Staying safe indoors is the need of the hour, but why waste time thinking about what can't happen? Recall your good old days when money was less, and emotions were more and pass on the real festive flavor to your kids.
Rakhi plans for little siblings at home:
1. Give you home a festive touch with kids
Decorating home with beautiful DIY craft ideas can generate positivity in the house. Remaining cheerful and positive is the best celebration and allow little kids to twig some crafts and prepare tassel hangings. Creating festive vibes in kids in essential to assure that they stay happy around the festival.
2. Do storytelling
Kids love mythological stories and what's better than fostering little siblings with the history behind Raksha Bandhan Day! Prominent sibling love and tales of Krishna and Draupadi, Goddess Laxmi and King Bali, Rani Karnavati and Emperor Humayun, and the most significant one between Yama and Yamuna be a great idea. It would teach the importance of this beautiful bond deep inside their hearts.
3. Give a new twist to Raksha Bandhan celebration
There are many houses where siblings are of the same gender, and they tie Rakhi to cousins. I still don't understand why is it so? Rakhi bond is about sharing a trust to protect each other through all thick and thins. Even if there are two brothers or two sisters, they can celebrate Raksha Bandhan and exchange the thread for feeling the real connection of siblings. Let's break the conventional mental blocks and explore a fresh twist to this fantastic occasion.
4. DIY Raksha Bandhan gifts
I remember the first gift my brother gave on his own. It was a stone bracelet that he made by collecting some colorful pebbles from the ground and attaching it to the string. Years have passed, and it being the closest to my heart! Handmade gifts are priceless, and the memories you create for them now would reside in their hearts forever.
5. Raksha Bandhan fun games
Indulge your kids in games that strengthen the bond and love between siblings. Plan the activity list for the whole day so that kids do not feel the lack of festivity. Occupy them consistently with activities that bring happiness to them.
Kids are very imaginative and give them wings to explore anything they can create like a small scrapbook, a photo album, some jewel chunk, or an innocence inked letter. Help them gift wrap the gift and hide the surprise for the final day.
Lockdown raksha bandhan day celebration ways- Spread goodness in tough times!
1. Tie Rakhi on a video call
How about making a video call to your dear one? Looking at each other's faces is the biggest celebration in this lockdown time. Dress up like you do each year and indulge in a conversation with your brother. You can apply him Tikka through video call, tie Rakhi, and offer sweets. This gesture could make up for your physical presence on this occasion.
2. Online gifts and vouchers
All brothers out there might also be anxious about gifting their sisters with memorable gifts and hampers. Due to the spread of COVID-19 infection, it is not a good move to step outside for shopping. Sit back and browse for something your sister would surprise to receive. Even sisters can buy some personalized rakhi hampers for their brothers. If you are skeptical about the purchase choices and always use to gift cash, try opting for gift vouchers. Buy vouchers and send them online so that your sister/brother can redeem and get anything they like to buy.
3. Handmade Rakhi courier
If you have some free time in Lockdown and wish to explore your passion for art and craft, why not try making a personalized rakhi for your brother. The Internet is splurging with ideas for such Rakhis, and preparing something by your hand adds a fantastic feel to the event. This applies to parents also who wish to make this Rakhi special for little siblings in the house. Indulge little girls in preparing a rakhi with brother photo to surprise him on 3rd August. Ask the little dude to make a customized greeting card and add any particular message or memory.
4. Make sweets
Buying sweets from the market is not as safe this year. Prefer making the favorite delicacy for your brothers like Kaju katli, rasgulla or cookies, and cakes. Cooking up a special meal would also light up their faces. If you stay distantly, send pictures or an actual bowl of sweets to relive the jealousy and fight you use to have over small things. The whole idea of the lockdown celebration of Raksha bandhan day is to revive and retain the old memories and emboss the fact in hearts that distance of miles cannot separate the real bond of love!
5. Go Matching matching
Discuss in advance to dress up in similar clothes on the Raksha bandhan day. Plan the color co-ordination and adorn the traditional attire with full fancy and grace as you always do. Getting ready and looking beautiful is an important aspect to retain the memory and fun of this day. Take some screenshots or actual pictures and tag your siblings. If you are a part of a very well known 'cousin gangs' in India, it can be great fun to dress with a match! Let not the negativities around the world affect the crux behind this celebration.
6. Dedicate songs
You can go out of the way and use radio and FM channels to display your emotions. Dedicating favorite song by either of them can cheer up their faces and hearts. It is always special to receive some gestures on a public platform.
7. Digital gifts
They might sound new to us, but these days are trending worldwide. Virtual platforms are trying to narrow down the space gaps and why not use them for festival celebrations. An on-call guitarist or personalized song sung by some good singer on video conference is sure to impress your sibling.
Wrap up
Activities you can add for an indoor Raksha Bandhan day celebration include playing games like carom, Ludo, Dumbsharas, and many more. You can also arrange karaoke nights when little siblings can sing and dedicate songs of their choice. When it comes to brother and sister love, the tales, fantasies, and the list of to-do are endless. Anything that clicks the chord between these relations is worth doing on Rakhi. Lockdown can affect the way of celebration, but the crux of the festival must remain as it is. Follow rituals, revive traditions, and secure the legacy of beautiful festivals, no matter how vulnerable the situation is!