While I am away from the whole family busy with job and city bustle, incorporating culture and mythology to my child has always been tough! We as parents are out for work and kids spends the whole day at school. I believe we also must imbibe the real crux of supreme Indian culture so that our kids can inherit it to the next generation.But how to do that? Shortage of time is the most significant barrier that obstructs us. However, small things like letting them speak out mother tongue or embracing the festival celebrations with doing essential elements can be a good idea. As Janmashtami is about to come, I have jotted down a list of activities for my child so that he can also recognize the significance and grandeur of this festival.
Why to indulge kids in Festival celebrations?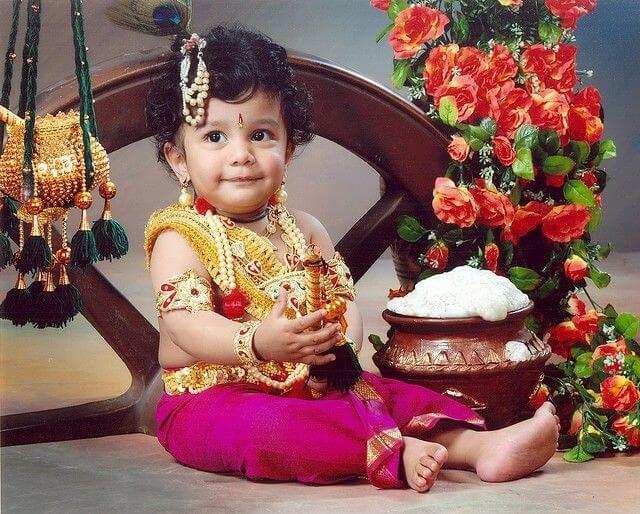 Although the pattern of celebrating Janmashtami might vary in prominent families and the nuclear ones but retaining the value should be the ultimate aim. The benefits you impart to your kids at this age struck in their minds for lifetime no matter whichever part of the world they go. My son is seven years old and is enthusiastic about the upcoming Janmashtami festival. There are many other ideologies to this event along with the birthday celebration of Shree Krishna! Dressing up, making Dahi Handi, offering prayers and decorating a home are few of them.
A list of activities that would make Krishna Janmashtami an unforgettable festival for your kids:
1. Allow them to make Prasadam-
Lord Krishna was a big-time foodie and often gets happy with prasadam and snacks just like our kids. Although you cannot allow the little munchkins to work on gas with frying or cooking, how about giving them a chance to roll some laddoos? You can ask them to help with non-gas food or even indulge them in baking cookies. Kids love lending a helping hand in the kitchen, and when it's for their favourite Krishna, it ought to get unique.
2. Krishna and Radha Dress-up-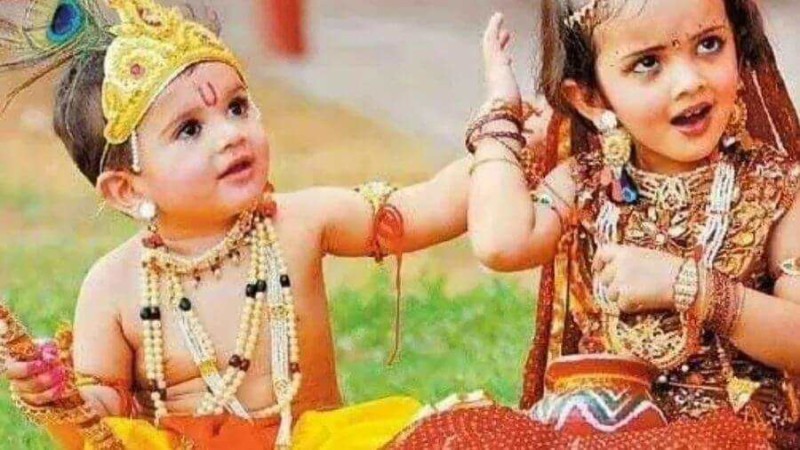 I love doing this since my childhood? Pepping up your little kid as a Baby Krishna with feather crown and flute in hands is mesmerizing. There is nothing purer than your kid's heart, and with a perfect dress up, you can reflect the image of Laddoo Gopal in your kid. All you need is a yellow dhoti, props like flute and a bowl of Krishna's favourite butter. If you have a little girl, dress her up in tiny lehenga choli and adorn her with flower ornaments. Your baby can help you gather the flowers and make impressive ornaments with it. Take some snaps to restore these childhood memories for a lifetime!
3. Play bhajans and recite prayers-
Kids have a great fascination for reciting the prayers that we often chant for our almighty. Play some popular bhajans and allow you kids to listen and learn the prayer. While performing Aarti on Janmashtami, ask them to recite the prayer, and you can then record it. The beautiful prayers allow your kids to understand and remember the glory and significance of this festival.
4. Participate in school celebrations-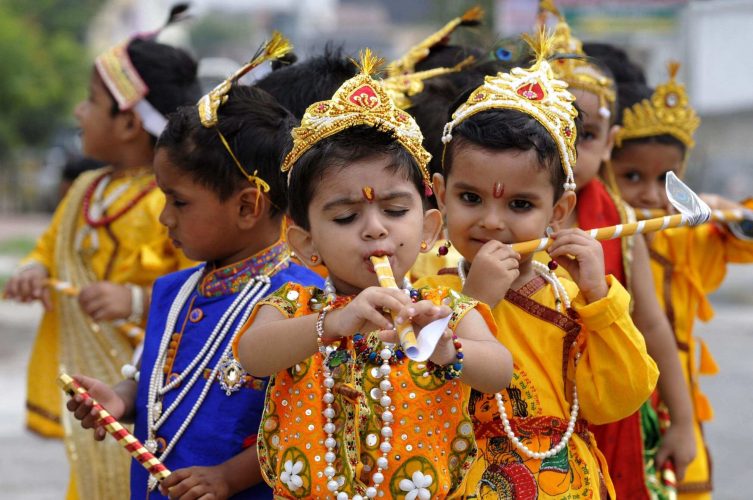 Allow you kid to participate in school competitions like fancy dress or pot making activities. If they have a right hand at the craft, help them to make a peacock feather and adorn it on the paper crown with beautiful designs. School role-play and skits are other activities that emulate cultural values in them.
5. Connect them to roots-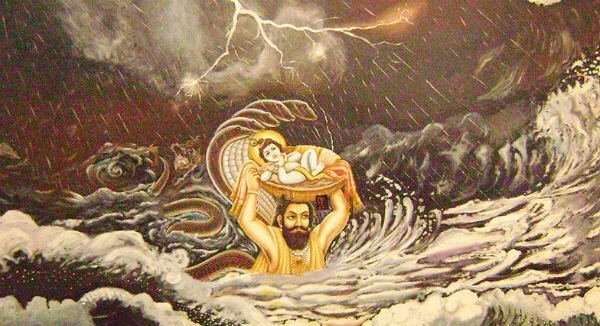 India is well-known for its diversity in celebration of festivals distinctly at every place. In south India, People make footsteps of Krishna with the rice flour to invite them in their homes. Western India celebrates Janmashtami with Dahi Handi ceremony by hanging curd filled pots on a string at height. A group of boys or girls makes a human pyramid and breaks it with coconut as an auspicious symbol of celebration.
In the north, people do 'Krishna Janam' at homes and temples and decorate 'Jhulas' for newborn 'Kanha' with feast them with coconut sweets and innumerable delicacies. Chants of 'Hare Krishna' are in the atmosphere and narrating your cultural celebration would ensure that this heritage keeps passing on. I love to feed my child with every bit of our divine culture!
6. Life of Lord Krishna-
Preaching of Krishna mentioned in Holy Bhagwad Gita is world-famous. Even foreigners aspire with the facts and truth he conveyed to the masses. Although the little minds might not understand the depth of Gita, narrate them some life happenings and goals of Krishna for which he left his all lovely things. Showing them some animated movies might also be helpful.
7. What about making a Dahi Handi?-
Isn't is amazing to hold a Dahi Handi celebration at your home itself. Get some basic crafts stuff and mud made pot. Now allow them to use their creativity and art for the decoration of the entire pot and fill it with curd and sugar. Make a string of chocolates with the handi in the centre and ask your kids to break it with full festivities. Ensure that they dress up like Krishna as well.
8. Jhula Craft-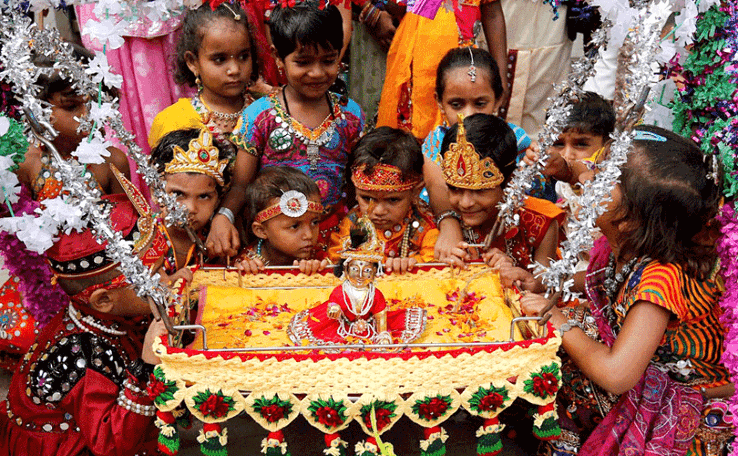 Small cradles are a significant part of this occasion, after all, it's a birthday, and every new baby's welcome starts with a beautiful cradle. Gather some bright colored fabrics from old stock and use thick threads at all sides to give it a swing. Allow kids to decorate it the way you want it.
9. Krishna Mythology Ebook-
We all are well-aware about the kid's involvement with gadgets these days! Anything conveyed to them with digital means stays long in their minds. Use this to the advantage by getting a series of Lord Krishna Mythology based books for them. Spend some quality screen time with them so that they grasp the old stories and get in-depth detail about the same.
10. Hand-made Krishna Crown and flute-
When kids enjoy craft and art, they make some masterpieces with their ever-evolving talent. Push their art to Janmashtami celebration to make a crown for themselves for a fancy-dress competition. I am sure they would not let you down. Guide them with a set of instructions to make some super cool crown for themselves.
11. Krishna Diorama-
What does Diorama mean? It referred to the recreation of the scenic landscape of the night when Krishna was born and the way he went to another village through YAMUNA waters. Take large cardboard to give a background and use clay along with other craft items to make the Diorama. It is indeed a very creative thing to do for kids, and you can enjoy it as a complete family activity.
12. Janmashtami Cards-
If you have elderly ones at home, make the festival special for them. Ask your kids to prepare matki shape cute cards with small embellishments and a personalized message for their grandparents. It would be an unexpected delight for them to receive this token of love on the festival by their little Krishna or Radha. They can also add peacock feathers at the front to make it look amazing. In case, their grandparents stay far; send an advance courier to light up their hearts on the festival.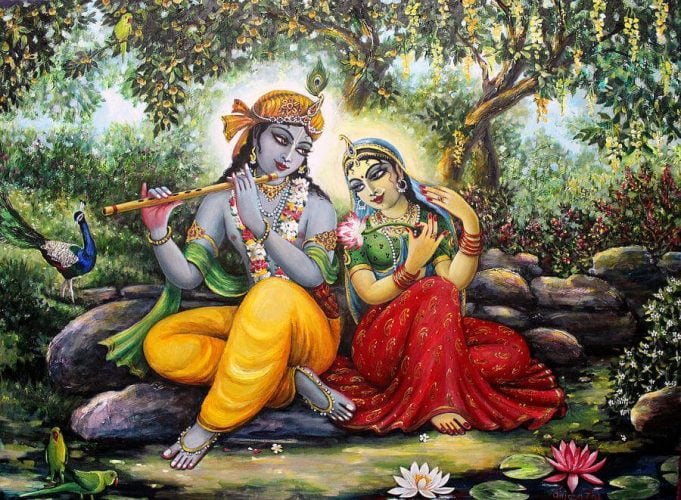 Bottom line
As we are getting liberal and modern, our kids somewhere lack the root knowledge of our culture and traditions that has an ancient legacy. When people across the world are acknowledging the goodwill of our mythology, how can kids be left aloof from it? It is therefore essential to connect them as a part of our traditions, and every festival aids in this process. Recognizing the vitality of festival celebration is crucial as it fades away the negativities of life and creates an immensely positive aura that is full of enthusiasm and festivity.
Your kids deserve to understand the significance and engaging them in innovative activities ensure that they enjoy it as well. Simple narration could sound boring, and that is the reason why the introduction of such festivals is a great thing to do. Janmashtami is about to arrive and your diligence to make this festival memorable for your kids would give them some moments to cherish. Happy Krishna Janmashtami!