The Covid_19 pandemic has affected a lot of people including the kids in many ways but the most profound way is how it has impacted the friendships between kids. Socialize, Social distancing, isolation, mask-wearing, and closure of school and childcare have meant making friends has completely taken a different form for the kids.
As parents, this change has worried us as we all want our kids to be happy and know that childhood is all about having fun with friends. Socializing is vital for the well-being of a kid. We can see that our kids do suffer without their friends and we all to make their childhoods as stress-free, happy, and as normal as possible.
The good news is that this situation, the pandemic it is not forever it is going to be over soon. The world will be back to normal again like it was years back. Kids can freely interact with their friends normally again and have fun moments with them. But until then there are many ways which will help our kids to make friends and socialize with their friends coping with the many changes that the pandemic has brought.
Challenges Of Making Friends During Pandemic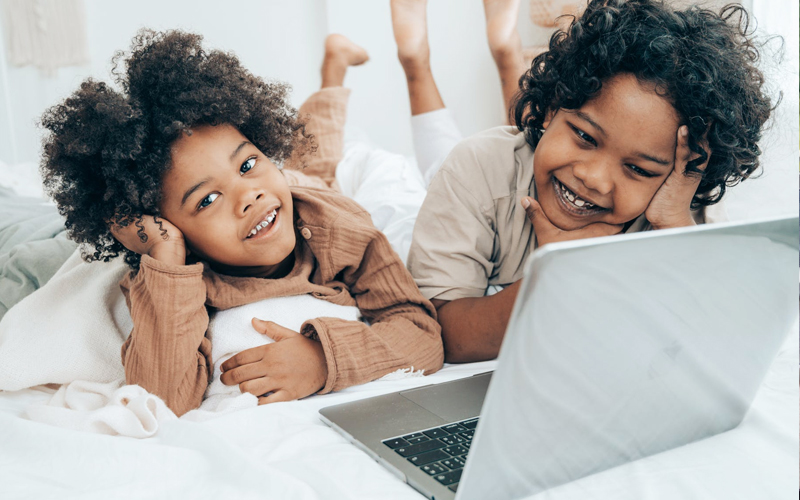 As daycares and schools begin to reopen our children will have more opportunities to connect with their friends. Socializing in the pandemic has been difficult because the schools were operating virtually which didn't give the kids more time to interact with each other. And for in-person, wearing a mask and keeping a social distance has changed the dynamic significantly.
And pandemic means that children have to find ways to socialize with others and even parents have to find a way out for their kids in which they are more adaptive to these new circumstances. It is especially for the kids who are new to a location or school, so making friends for the first time will be difficult especially if the kid experiences social anxiety.  Children with special needs and the ones who are young may find a new way of connecting to other children.
There are many options out there for the children to connect with their peers and make new friends. Modern technology has to be thanked for this because it's easier than before to find socializing opportunities for our kids sitting at home. All it takes just pre-planning beforehand.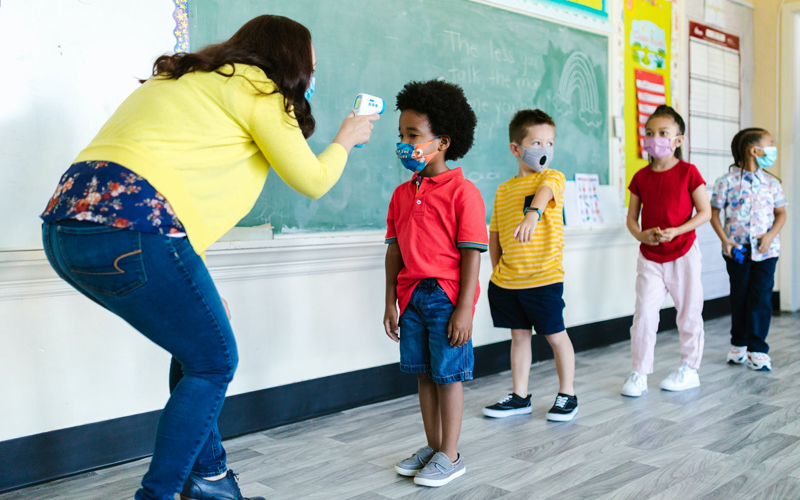 Let us face that school year is like no other. Since your child will be spending most of the year participating in virtual school or distance learning. It has become more vital than ever to find creative ways for your child to develop social skills. While the most natural way to develop social skills is to spend more time with your peers but for many of us, the option is unavailable. Don't despair thinking out of the box and there are great ways you can teach your child social skills during quarantine.
Videos : Social skills are addressed in various videos that can be found on YouTube. These videos demonstrate particular skills to various ways to handle a situation. It is very important to remember to narrow down your search that focuses on a specific topic while searching on a specific topic rather than searching for social skills.
Books : Books are always a wonderful way to introduce concepts that are involved with social skills and start a conversation about them. Try to focus on skills that are different each week and explore that with your child through a book, it can be a picture book that is very effective on young children. While your child is reading the book parents should inquire about the feelings of a character. Use your reading time as a time to adventure that explores your kid's feelings and perspective on life.
Paying attention : This is a critical social skill that requires the capacity to pay attention while interacting with other people. Akid should always try to feel what kind of thing is right for them or inappropriate for them by paying attention to their surrounding. They should know when they are in a safe zone and when they are not in a safe zone. So teach them to pay attention when they are in a situation.
Fostering conversation : Children interact with their peers and teachers in the school where they learn to read facial expressions and body language which is considered with appropriate give and take of conversations and on initiating or changing topics of conversation. Having encounters like this on regular basis is important for the children to learn how to meet and greet people. This can be compromised in virtual encounters and parents and other guardians can take some steps to preserve the child's social skills in this area as well.
Writing letters : Another best activity is to let your child write letters by hand just like in the old days. Through writing letters, parents can encourage their children to initiate friendships in faraway places by making someone their pan pal. This will help them build conversational skills through writing.
Keeping the friendship : It is important to explain to your kid the difference between brief messages and posts and longer communications. Brief messages are fun they are like the feeling of a more meaningful deeper connection that comes from something longer and more throughout. Encourage your kid to write less frequent but longer missives to their friends which will help to keep their relationships strong. Despite the social distancing children will have the option of connecting with their friends outdoor. Try to arrange outdoor visits which will keep your kids and their friends six feet away from each other and ask them to wear masks.
How To Socialize Toddler Without Daycare
Get togethers : Whether you are going for a playdate or a family party the most important thing of getting the kid socialized is for them to be around other people. At family functions, there are people of different ages which is a great way for the kid to see how children and adults behave and it differs. He can be intimidated by the actions they see by adults which will encourage them for creative play. With children closer to their age they will not be prepared to socialize so don't be surprised by this behavior of your kid if they get upset over lash out over something snatched away from them. Instead, use this as an opportunity to remind them of the appropriate ratio.
Playgrounds : If you are new to a place or area where you don't have friends or family nearby then you can always try to venture out at the local playground. The park offers opportunities for parents with children around the same sage to set up a future playdate. Playing at the park also remiss the kid about the appropriate social skills like waiting for their turn at the swing or sharing the toy with other kids and playing together.
Classes : Even when your kid is not in the daycare that doesn't mean that he cannot be in a classroom. Try to visit the library for a storytime or even music class if they like can be great for helping.  Kids learn looking at other children and most programs offered at this young age are for both parents and children this way your presence will help the kid to feel comfortable in a new environment. And another advantage is that the baby will learn to take instructions from another adult who will be the instructor.
A kid that goes to a daycare spends more time with other children than the children who are not going to daycare but that doesn't mean that they are going to be more socialized than a kid who spends their time at home.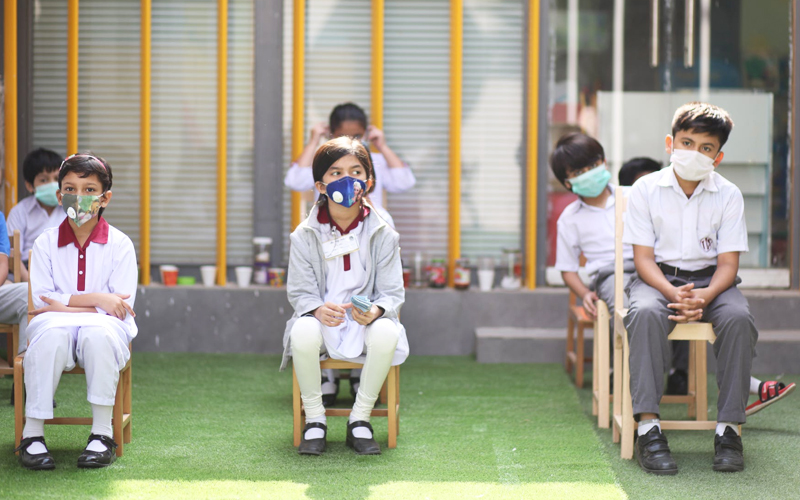 Start small : Find opportunities for limited exposure. It can be heading out to the park or going out as a family for eating ice cream. Try to ease your child into social situations in which they will be around other people who are new to them and with a new setting.
Brainstorm to conversation starter : Come up with a handful of topics along with your children that they can ask their friends in person. Remember to include only the age appropriate questions like how they spent their summer holidays, what is their favorite thing to do or what they like to eat etc, this will help the kid to feel prepared and give them the confidence to converse face to face.
Talk about expectations : Explain to your kid the new schedule and activities, this will help them to feel more prepared and less afraid in the moment. For example, let them know if you are going to go out the other that and what will they expect to see there.
Show and then tell : Try to schedule a tour with your kid of their school or daycare facility to help them get familiarized with the space and if this is not an option then try showing them pictures or even go on a walk outside the building.
Children are inherently curious and full of joy. They have imaginative ideas going in their head while they are alone and sometimes it is better but a child should be taught social skills as they are important in life. Parents are the child's biggest support and they need to use the right approach that allows the time that each child needs.