Add to your list today, the Golden Triangle of India – Delhi, Agra and Jaipur. Yes, they are the Golden Cities of India. Plan trip around these to learn about the rich Indian history and culture. I am lucky enough to wander in these golden places of India. Strolling around in the pleasant weather, eating lip-smacking food to getting an insight into the ancient culture and Indian heritage.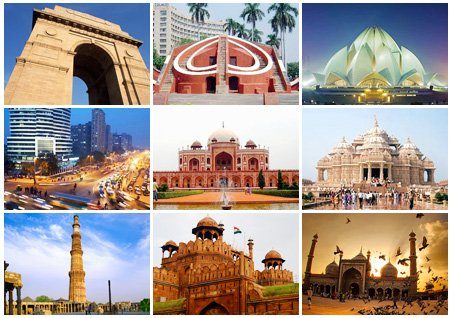 Admire the beauty of Jama Masjid – the largest mosque in India. Its magnificent and striking infrastructure will leave you stunned. After making your way towards the Chandni Chowk the Moonlit Square of Delhi, which is popular for its lively markets and lip-smacking fragilities. Enjoy the yummy savoured Rabri Falooda at Giani's, the best dessert you can ever have. Next stop is the Red Fort, the stunning sandstone fort which looks like a beautiful painting in red amid the lush greenery. Delhi is home to President's official residence, the Rashtrapati Bhavan. The beauty of this huge mansion with notable architecture is incredible and worth the visit. The India Gate radiates a heroic vibe, standing tall and reflecting the tri-color flag of our motherland. Built-in memory of our Indian martyrs, this place has a Flame of the Immortal Soldier, which is lit every time.
Agra – Home of Crown Palace of India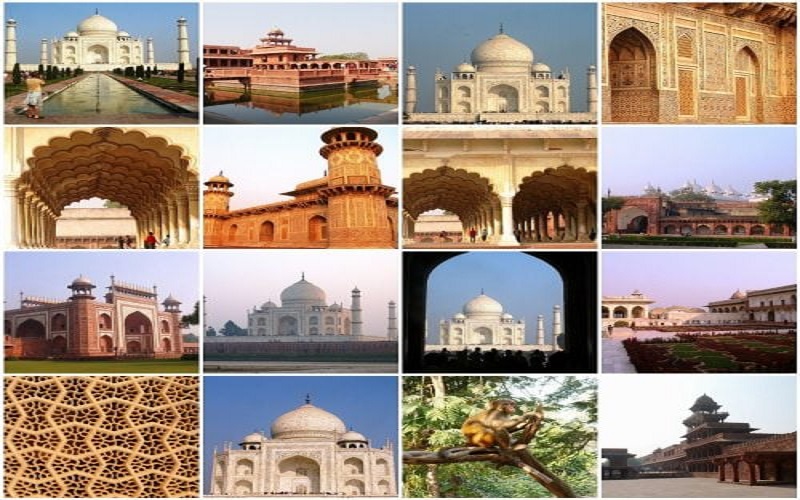 Nestles some of the great historical monuments inspired by Mughal architecture. Taj Mahal also known as the Crown Palace of India, portrays Love is Forever'. Indulge in the beauty of this captivating monument, Taj Mahal. Being the part of Seven Wonders of the World, Taj Mahal was built by the Emperor Shah Jahan in the memory of his wife Mumtaz Mahal. Its pristine white marvel displays immense craftsmanship which transports people back in time and leaves them pondering over the artistry possessed by men of ancient time. Also, Agra Fort here symbol of power, strength and resilience has been declared as the UNESCO World Heritage Site.
Jaipur – The Pink City of India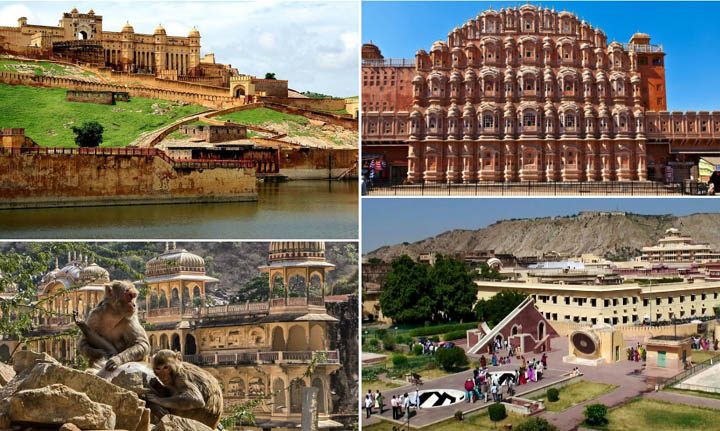 Dipped in pink, Jaipur is a renowned place known for its royal palaces and forts. Amber Fort, a grand fort-palace, named after the goddess Amba stands right there, appear to be singing about its ancient rulers and their valour, this is the glorious heritage belonging to Rajputana rulers and they're fine taste. How about getting to observe everything that's happening outside without being noticed? Here I am talking about Hawa Mahal, an impressive five story's high, made of red and pink sandstone structure with over 950 windows, this Mahal was constructed by Maharaja Sawai Singh in 1799 to allow the royal women to view the happenings in the city without being noticed. The subject of astronomy intrigues people and lead them to Jantar Mantar Observatory. Home to amazing geometric devices for measuring time, tracking stars in their orbits and predicting eclipses is the icing on the cake.
Blend of ancient awe-inspiring architecture, these places will take you down to the memory lane of the Indian olden antiquity. From red and pink experience to this celestial experience, leave for home with golden memories which you will surely treasure for a lifetime. Not only will it give you those vibes of travelling through three different states, but it will also give you a glimpse of some of the best heritage places in India. The vibrant cultural environment and the colorful friendly crowd lends an added dimension to this trip.