Pongal is an Indian Thanksgiving festival which is celebrated throughout the Southern part of India. The literal meaning of Pongal is 'to boil' ; it is derived from Tamil Literature. A rice based dish named Pongal is also prepared for this festival. This festival is basically a harvest celebration festival which is celebrated on 14th January of every month. This festival also marks the sun's movement for the period of six months towards the North of India.
The celebration is started with generous enthusiasm and mouth watering feasts by millions of Tamilians. It is a four day long celebration which is enjoyed all over the Tamil Nadu region. The joyful days of Pongal festivities are meant to bring happiness with prosperity into the lives of people and hold the promise of a new beginning.
Why do we celebrate Pongal?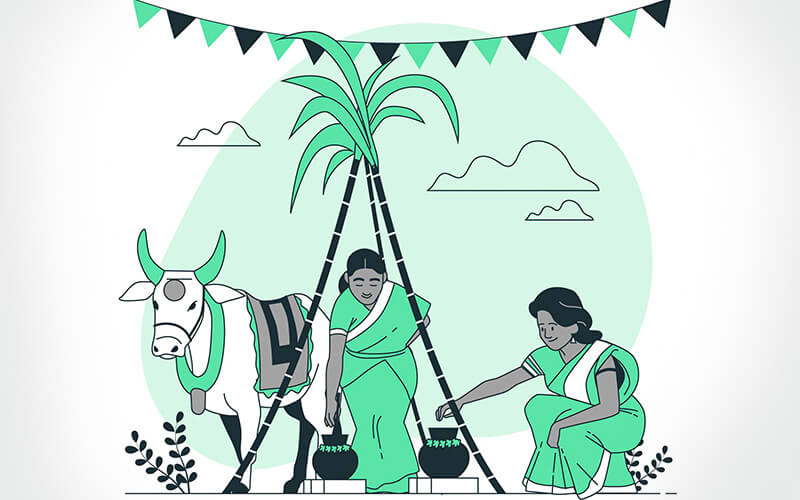 India is a land of festivals and this festival reminds us of the uniqueness and importance of the natural resources when the entire world is battling with environmental change and global warming. India is the only country where every festival is celebrated with great zeal and enthusiasm. Our festivals represent our culture. And among all other festivals, Pongal is also one of them which is celebrated in the South region.
Pongal is considered as the harvest festival just like Lohri & Makar Sankranti. The day is dedicated to worship to the sun and corresponds to Makar Sankranti. Pongal celebration begins on 14 January and ends on 17 January, a four day celebration for South Farmers and families.
How are four days of Pongal celebrated?
In Hindu mythology and astrology Pongal is a festival that marks up a very auspicious occasion when God begins after a six  month long night. The celebration is spread across days. The first day is marked by a special pooja which is performed by cutting on the paddy. Farmers then worship the sun and the earth with sandalwood paste.
Let's have a brief look at all the 4 days of the celebration:
Day 1 : Indra is honored with due rites which is the Hindu deity that presides over rain. Bonfire of cow dung cakes and dry woods is lit up and young girls and children dance around it singing folk songs to praise the deities, the spring season and the rich harvest. The first day is called Bhogi.
Day 2 : Kolan is made by the women in the premises of the house using white lime powder early in the morning before starting the day. Later on that day rice and milk are boiled in a pot which is made of mud and offered to the Sun. Further Bananas, coconut and sugarcane are offered to the gods.
Day 3 : The day is dedicated to worshiping the cows with elaborate rituals which is known as Mattu Pongal. As men are dependent on the cattle for the food and hearth they worship them for the blessings of the coming year.
Day 4 : On the last day females perform special religious rituals for the prosperity of their brothers and is celebrated by the name of Kannum Pongal. The day then is followed by worshiping and then lamps of butter are waved before the brothers. Kolan is added to give the finishing touch to the celebrations. Crows are believed to be our ancestors and always live in flocks.It is believed that by offering food to crows brings blessings of our ancestors and is also believed to keep the family together.
Pongal – Interesting Facts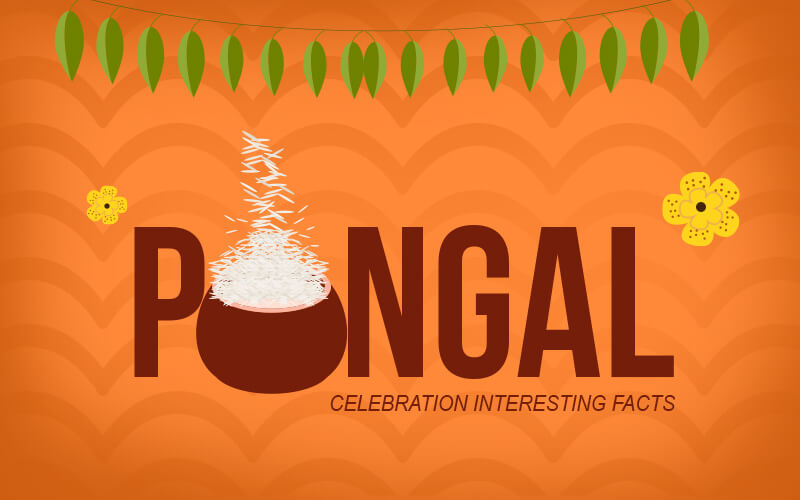 Cash crops like rice, sugarcane and turmeric are harvested in this month. Hence Pongal is known as the harvest season for people of South.
The term 'pongal' is a symbol of happiness and agricultural produce. It is celebrated as an expression to give gratitude toward the Sun God.
In Andhra and other states this festival is known as Makara Sankaranthi, In Bihar it is called Bihu, In Rajasthan and Gujarat it is named Uttarayana.
As a mark to welcome new things all the old clothes, dirt etc are burnt.
Family members are supposed to get up early in the morning before sunrise to take an oil bath and apply kumkum and Vibhuti.
Milk is boil with rice and jaggery in a pot and when it boils over the pot it is marked as prosperity and happiness and people around shout "Pongalo Pongal"
Pongal is celebrated in which states of India?
Pongal is celebrated in Tamil-Nadu and it is a four day long harvest festival for Tamilians which falls in the month of Thai that is January and February when crops like rice, turmeric and sugarcane are harvested.
Is Pongal a harvest festival?
Pongal is a harvest festival of Tamilains which is equivalent to Thanksgiving. The harvest plays an important part in the agriculture based civilization where the farmer cultivates his land that depends on cattle, Sun and timely rainfall. Once in a year farmers express their gratitude during the Pongal festival.
Delicacies made at the time of Pongal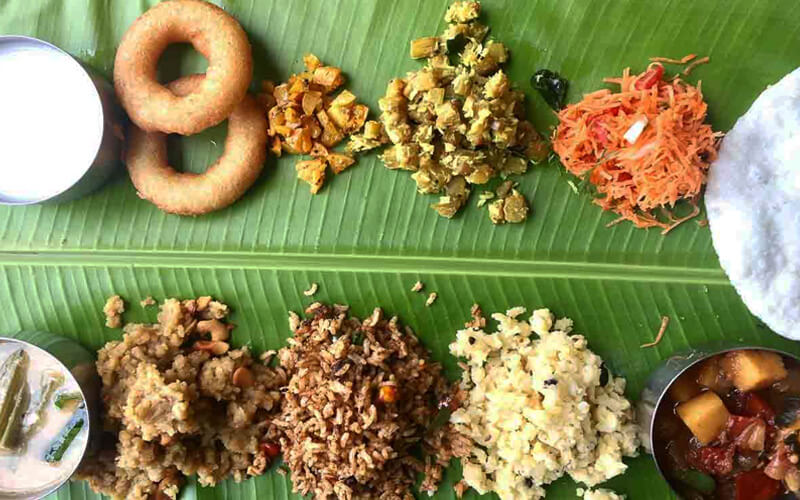 The main and core dish of this festival is undoubtedly Pongal. This is prepared with rice, dal and ghee where different variations are also made using these three ingredients which are essential for Pongal.
Another important dish that is made is Pongal Kootu which is a combination of lentils and vegetables. It is basically sambar but includes seven seasonal vegetables.
Sweet Sakkarai pongal is also made by adding jaggery and there is a salty version of this sacred dish which is known as Ven Pongal.